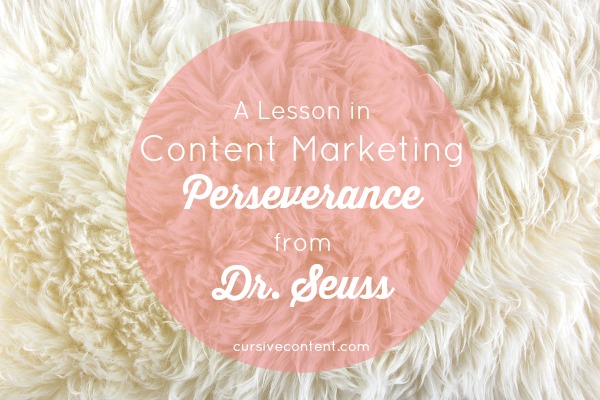 Sitting on a table in my daughter's room is a well-loved copy of Dr. Seuss' Oh, Baby! Go, Baby!. She's not quite two years old, but I've long since lost count of the number of times we've read it to her.
And unlike other books I'm obligated to read on repeat, this one has a message I love to hear over and over (and over and over and over) again. It's one we can all can take to heart.
"You'll be on your way up!
You'll be seeing great sights!
You'll join the high fliers
Who soar to high heights.
Except when you don't.
Because, sometimes, you won't."
Do you love how much Dr. Seuss elevates the mood then quickly brings it back down again? I do. Because it's real. No sugar coating from good ol' Dr. Seuss, not even for toddlers.
As content marketers, we do a lot of research to understand our audience, define our objectives and straighten out our approach. When we create really good content that has a positive impact on our business, we are the high fliers and we reach those highest of heights.
But sometimes we're going to miss the mark. Understanding that this will happen is important. One mistake does not constitute failure.
Content marketing's inherent agility gives us a chance to make smaller mistakes for a shorter amount of time, and a near-constant opportunity to learn from our mistakes, evolve our approach and do better next time. The missed marks can be identified sooner than ever before thanks to an approach that's focused on metrics and measurement.
We can learn from our mistakes and move on, better and stronger. Or, you know, as Dr. Seuss puts it:
"With banner flip-flapping,
once more you'll ride high!
You'll be ready for anything
under the sky!"
Not everything you do will be a raging success, but you always have the opportunity to learn from it. And that's as important a lesson at age 42 as it was at 2.
Thanks, Dr. Seuss. And happy birthday.
If you want to talk strategy and get Seussian levels of motivation and support, check out our Script Your Story Sessions. 
Stacy is a content marketing strategist & writer at Cursive Content Marketing. She has more than a decade of marketing experience with a focus on strategy, writing and the interactive experience. Stacy is driven by her strategic outlook, life-long love of words and her innate curiosity. And coffee, of course.
BE A CURSIVE INSIDER.
Get weekly EASY, actionable tips you can use right away to strengthen your school story.