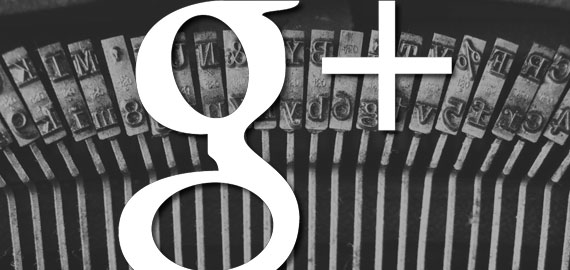 The key to great content marketing is great content, and great content requires great storytelling. So it's no surprise that the authority of those people writing your content is important – both to your readers, and to Google.
As Google continues to change its algorithms for search, the quality of your online content continues to increase in importance.
Google wants its search results to provide the best content for its users, which means that it values content produced by credible leaders and subject-matter authorities.
Put simply: Words no longer matter. Meaning and context matter. Marketers can no longer focus on key words. They need to focus on key ideas.
That's why it's critical for all online content producers and marketers to understand Google Authorship.
What is Google Authorship?
Google Authorship is a way to connect your Google+ profile to the content you create. When you link your content to your Google+ profile, your content will be displayed in search results with your photo and your byline, like so:

Benefits for You:
Your content will be more credible and easy to distinguish as your own.
It makes it easier for people to find your content from different sources across the web.
You establish yourself as an authority in your area of expertise, making it more appealing for people to not only read your content, but also add you to their Google+ circles.
It helps you discover and stop plagiarism of your work.
You can now access analytics for your content in search.
Benefits for SEO:*
Search-engine results with pictures are more likely to be clicked.
More credible links get more clicks.
More than 17% of search results feature a verified writer in the top 100 results.
Your content will be indexed quicker if it's linked to your Google+ profile.
Why is Google+ Important?
If you're like me (until recently), you may have been under the impression that Google+ was the search giant's lackluster attempt at creating a Facebook-esque social platform. Maybe you signed up for it when it launched, and maybe you explored it a few times, but most likely you've now forgotten your user name and password and haven't thought about it much since.
Well, it's time to get a password prompt and log back in. Why?*
Google+ is now the second largest social network, with 318.4 million active users in 31 markets.
Fifty percent of global Internet users have Google+ profiles, which is quickly catching up to Facebook's 70 percent.
It boasts more than 1,200 million monthly visits, compared to Facebook's 809 million and Twitter's 416 million.
The statistics are not the only factor that makes Google+ compelling. As Copyblogger puts it, "social proof is the new marketing." More social interaction on Google+ creates a higher level of social proof and trust in your content and your authority.
Why does your social proof on Google+ matter more than on Facebook, Twitter or LinkedIn? Because Google+ is a social network that extends beyond its own digital walls. Your actions on Google+ influence your search results and follow you to all other Google products.
The power of your Google+ connections cannot be understated. The Copyblogger article sums it up with a quote from Google+ expert Mark Traphagen:
"… if one person who has 10,000 Google+ followers (and/or other Google contacts, such as people in her Gmail contacts) follows you, you've gained the ability to potentially influence the search of not just one, but 10,000 other people, most of whom don't even know you exist!"
Sold yet?
How Do I Set Up Google Authorship?
It's simple to do, but you must first have your Google+ profile established. Once you have your profile page, follow these steps:
Make sure you have a profile photo with a recognizable headshot.
Make sure a byline containing your name appears on each page of your content (for example, "By Emily Cretella").
Make sure your byline name matches the name on your Google+ profile.
Verify you have an email address (such as emily@cursivecontent.com) on the same domain as your content.
If you don't have an email address on the same domain, you can still set up your authorship by linking to your Google+ profile using rel="author", which sounds like scary and intimidating code-speak, but it's super easy. You can get the two-step instructions on this Google support page. And stay connected by joining the Google Authorship & Author Rank community.
Up Next: Google Author Rank
If you're STILL not sold on Google+ and Google Authorship, consider this: Google will soon be implementing Author Rank, which will use social factors from Google+ to essentially rank the influence and authority of the authors producing online content.
You can learn more right from the mouth of Google's Matt Cuts below.
One killer quote from this video?
"We're doing a better job of detecting when someone is sort of an authority in a specific space — it could be medical, it could be travel, whatever —  and trying to make sure that those rank a little more highly (if you're some sort of authority or site that, according to the algorithm, might be a little more appropriate for users.)"
So get going on Google+ now, add me to your circles 🙂 and establish your credibility before Author Rank does it for you!
[question]Want more information, or help developing your Google+ strategy? Contact us today, or sign up for a Script Your Story session to get your 2014 content marketing plan in place.[/question]
(Image via.)
Emily is the owner of Cursive Content Marketing. She has been content marketing since the sixth grade, when she created a neighborhood newspaper to build her babysitting authority. (It totally worked.) Today, she helps brands drive business with smart content.
BE A CURSIVE INSIDER.
Get weekly EASY, actionable tips you can use right away to strengthen your school story.