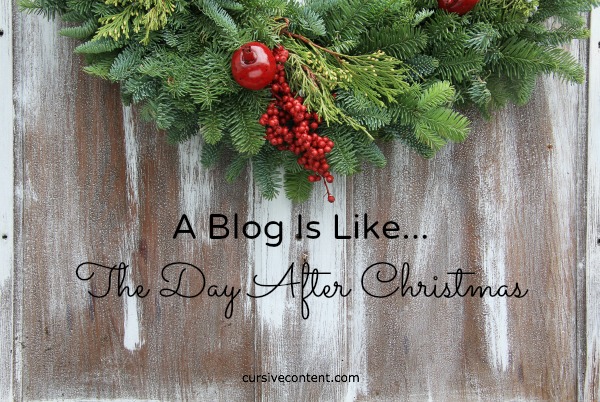 It seems like there is always more work to be done, even on the day after Christmas. Bits of tinsel grind themselves into the carpet. The cat is batting around a ball of ribbon and bows that missed the trash can yesterday. A stack of broken down boxes begs to be taken out to the recycling bin. You're simultaneously relieved and wistful that it's over; you're struggling with the desire to get things done and the need to be still.
So it is with a blog. You scurry to finish a post. It's time to start the next one. Half-formed ideas pile up inside you, and have trouble finding their way to the page. This time of year, with the social life that happens away from your keyboard, it all becomes harder to manage.
So today, be still. It's ok to stop. Take today—heck, take a few days— to reflect and regroup. You'll find more inspiration taking that walk around the block or watching those incredibly cheesy Hallmark movies than you would trying to mash out something worthy while your brain is still in an egg nog-induced haze. Repost your favorite pieces from the year. Wish everyone a happy holiday. And step away.
A blog is like the day after Christmas because with both, you need to take the time to recharge. So grab a blanket. Take a nap. Read a book for pleasure, not business. Cuddle up with the ones you love. Watch those horrible Hallmark movies, you know you want to. Because this all, well it only comes one time a year.
And then get ready. Because next year is going to be amazing.
Stacy is a content marketing strategist & writer at Cursive Content Marketing. She has more than a decade of marketing experience with a focus on strategy, writing and the interactive experience. Stacy is driven by her strategic outlook, life-long love of words and her innate curiosity. And coffee, of course.
BE A CURSIVE INSIDER.
Get weekly EASY, actionable tips you can use right away to strengthen your school story.