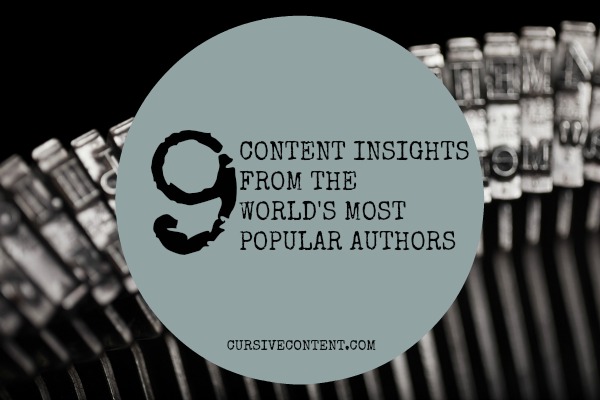 You can't have great content marketing without great content. While it may take many forms—white papers, videos, blog posts, podcasts, enewsletters, SlideShares—at the core of all of it is writing.
And who better to get advice about great content from than the world's most popular authors?1
This group of folks doesn't have a marketing background and the content they write is vastly different than marketing content. But so what? They're master storytellers who have captivated readers worldwide. Nora Roberts has written more than 189 New York Times bestsellers. Jeff Kinney, author of the Wimpy Kid series, was named one of Time's Most Influential People in 2009. In the midst of writing more than 60 wildly popular novels, Stephen King wrote On Writing, a non-fiction piece that's among the greatest books about the craft. These people know about great content. Here's what us marketers can learn from the words of these chart-topping pros:
"The truth is, I didn't set out to write for kids.[…] And looking back, I feel fortunate, because had I known I was writing for children, I would have written differently — and less honestly. I would have been tempted to write down to kids and use my standing as an adult to impart some sort of life lesson. And that approach never would have worked."2 – Jeff Kinney
The takeaway for content marketers: Find your audience, and once you do, write for them. This means thinking very little about what you actually want to focus on and focusing much more about what your audience wants or needs to know.
"Ideas are infinite. Writers are hardwired to think that way. We keep it fresh by using new people, mixing character types and putting them in different settings. It's always the first book all over again. There are 88 keys on the piano, but you can make infinite music from those keys."3 – Nora Roberts
The takeaway for content marketers: You don't always have to start from scratch. Revise, update or reformat your existing content that's proven successful.
"If you want to be a writer, you must do two things above all others: read a lot and write a lot. There's no way around these two things that I'm aware of, no shortcut."4 – Stephen King
The takeaway for content marketers: Reading is an often-overlooked key to content marketing success. There's no better way to keep up with industry news while also getting an education on what separates the good content from the bad. If you can understand why a certain article or blog post held your attention, you can take that insight and apply it to your own work.
"My name became a brand and I'd love to say it was the plan from the start. But the only plan was to keep writing books."5 – John Grisham
The takeaway for content marketers: Don't try to "go viral." Just try to create some great content.
"I write for a long time, and then I stop. I'm a staunch believer in pottering about—I've had some of my best writing epiphanies when I'm doing things that have nothing to do with writing."6 -Gillian Flynn
The takeaway for content marketers: Seek new perspectives as a path to better ideas. When an idea isn't working, take a break from it. If you feel drained of all creative ideas, give it a rest. Here are some ideas of ways to step away in order to step up your game.
"This long 20-year journey has led me to a point where the 'Keep It Simple, Stupid' idea of writing is the best way to keep momentum going in a way, and that goes whether you're writing it or reading it."7 -Michael Connelly
The takeaway for content marketers: Don't overly complicate your language. Don't draw out your content to meet some "ideal" length. Focus on what needs to be said: nothing more; nothing less.
"I knew from the technical writing that ideas spawn ideas, it's the act of working that creates ideas, not waiting for them."8 – Diana Gabaldon
The takeaway for content marketers: If you just sit around hoping for the big idea, it might never come. You need a strategy before you start, but the details of the plan can change. Once you get started, you'll be able to learn and adapt. If you're stuck for ideas, don't just sit there. Grab your team for an impromptu brainstorming session.
"Stop trying to write sentences and start trying to write stories."9 – James Patterson
The takeaway for content marketers: Your audience doesn't want to be bored; they want to be entertained. When you're developing content, ask yourself how you can really tell the story, and tell it in a new way. Can you change up the language? Create more of a narrative? Approach your topic through a different format? Focus on storytelling as the path to creating something your audience wants to read/hear/watch.
"I measure success by anecdotes– the kid who told me he never liked books until he found the Lightning Thief, the parent who thanked me for turning her daughter into a reader, the teacher who said I turned her class around because they bonded over reading Percy Jackson every day. That's what it's all about for me."10 -Rick Riordan
The takeaway for content marketers: Success isn't always measured by numbers. A small but engaged audience is better than a large audience that doesn't interact with you. Strive to create an audience that feels passionate about your brand.
What's most interesting about reading author's accounts of their road to success is that there is always a struggle. Rejection, insecurity and various forms of writer's block abound. Some authors wait years to get published. Some get published quickly but don't find their audience until their second or third book. The content struggle is real, my friends. So when you're having a hard time, remember that some of the world's greatest storytellers have felt discouraged and uncertain. Let their words inspire you to tell your best story with every piece of content you produce.
If you have a story that's dying to be told, we'd love to hear it. Contact us about our Script Your Story sessions.
1 according to Amazon Author Rank (this list is updated hourly), 2 Source, 3 Source, 4 Source , 5 Source , 6 Source, 7 Source, 8 Source, 9 Source, 10 Source