If you have a business, you're already busy. Like, really busy. (And, oh boy, we get that.) Your list of priorities is probably just slightly shorter than your actual to-do list.
So. Much. To. Do.
But if you're a biz owner who is also a blogger, your blog should be pretty darn high up on that priority list. At the top, even. Because your blog has amazing potential to grow and strengthen your business if (BIG "if") you treat your blog like it's a business in its own right.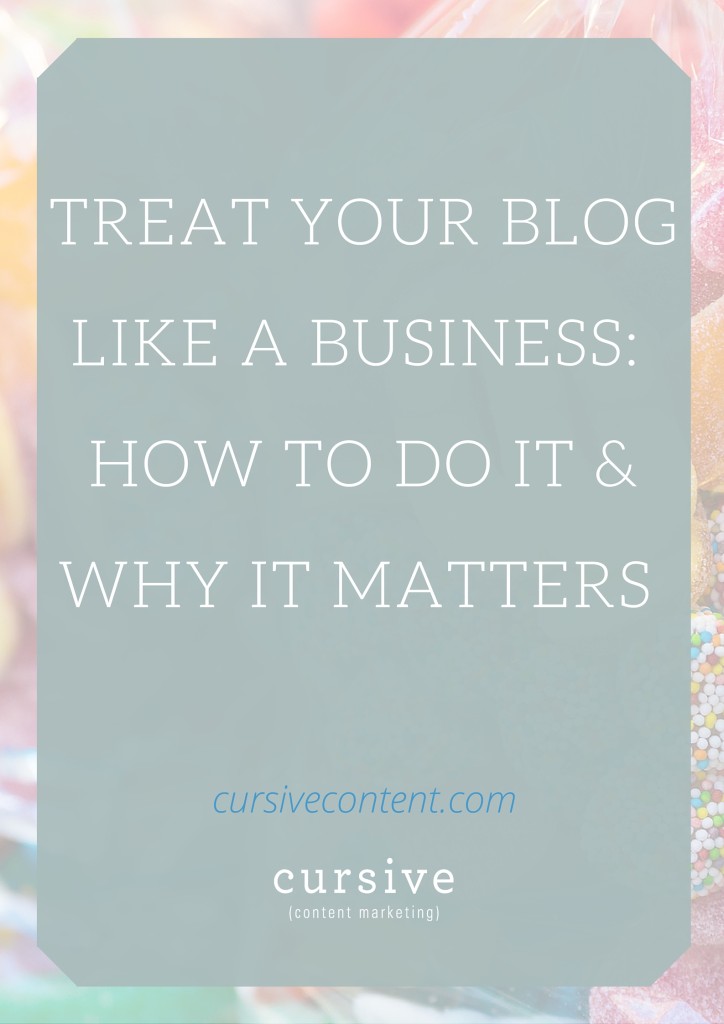 Your blog needs to be as dependable as your physical (or virtual) business.
Let's pretend you own a cute little candy shop. If your shop's hours indicate you're supposed to be open on Tuesday, then you open on Tuesday, right? And you certainly wouldn't shut down for weeks or months. Those business hours you've posted not only dictate when customers can reach you, but they're a symbol of your dependability. You're there when you say you'll be there.
Think of your blog the same way. If you commit to post every Tuesday, post every Tuesday. Be careful not to overcommit, because a sporadic commitment to your blog can make you seem unreliable. If you don't write new posts often, people will stop coming back to check for them.
The more you post, the better your chances of creating a lasting connection with your audience. The chances of your blog being found in search are higher. The chances of people viewing you as an authority in the candy-shop world increase.
It's not just about post frequency, though, because…
Your content needs to be as amazing as the products or services you offer.
Do not hit publish just to get something posted. This blog you're running? It's a direct reflection on your business. Just like you wouldn't add a new product or service if you didn't think it was amazing, don't post something if you aren't confident it is worth your audience's time. That can damage your blogging and business reputation.
Make it good. Make it really good.
If this blogging thing was easy—if you could post anything, any time, and see some killer results from it—then every small business would have a blog, every blog would be successful and every small business would be totally killin' it. That's just not the case. It's not easy. It takes time. If you want to see success as a result of your blog, then you. better. work. (cue Rue Paul).
But even that dependability we talked about, combined with this hard work, isn't all you need.
You need focus.
Let's go back to the candy shop (cue 50 Cent?). You sell candy, so you wouldn't start also selling bicycles next week and furniture the next, right? Of course not. It doesn't make sense—bicycles and furniture have NOTHING to do with candy, so it would be an awkward and ineffective business model.
On your blog, you need a similar focus. This is a blog for your business, and your content needs to be geared towards that. It can be so tempting to write about personal interests (because, fun!) but if it doesn't fit your offerings, it doesn't belong on your blog.
The best way to ensure your content is always blog-appropriate is to craft a blog vision statement that serves as a guide for everything you write.
BONUS! You can download our super helpful blog vision worksheet here.


Oh, and another thing about focus?
Don't make it all about you.
Picture a customer walking in to your candy shop. Would you follow them around saying:
"We have these really amazing new peanut butter cups that just came in today. They're really good. You should buy them. In fact, here you go. Take this bag of peanut butter cups. They're just what you need. Buy them."
Um, no. That type of pushy behavior would make most people turn around and walk out. So why, oh why does this same behavior happen on so many business blogs?
It should be less about you and more about your audience. Stop trying to sell by selling and start trying to sell by helping.
Yes, it's ok to try to sell. You're a business owner, after all. But selling by helping is a totally different feeling. It's greeting your customer like this, instead:
"Hi! Can I help you find something today? We have some amazing new peanut butter cups, if you're looking for a special treat."
Being helpful is a combo of knowing your audience + thinking creatively. Your candy shop blog might include posts about new types of candy, recipes for candy-stuffed cookies and instructions for dinner party centerpieces made out of candy. These are all candy-centric topics that will attract your ideal audience. None of these topics are overtly selling your product, although of course they are products you sell and these topics position you as a candy-lovin' authority because blog = business, right?
[Tweet "Being helpful is a combo of knowing your audience + thinking creatively. "]
This customer-focused approach is more than just helpful. It's friendly.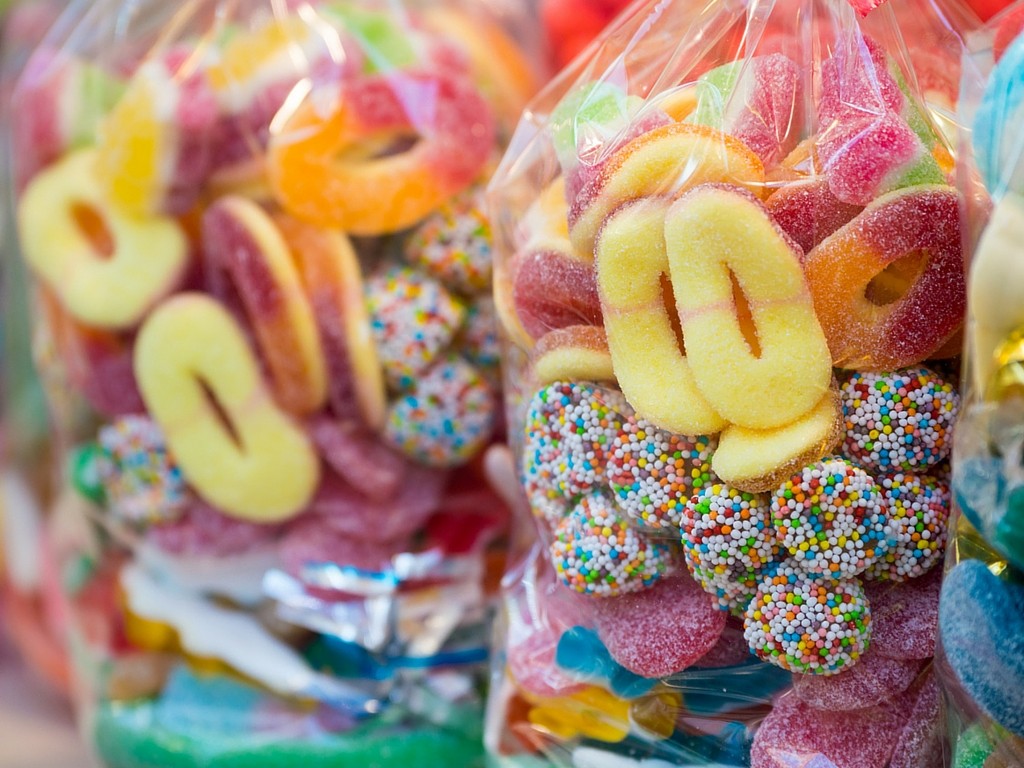 Being friendly online will help your business tremendously.
If a customer called your candy shop, you would answer the phone. If someone came in, you would greet them.
It needs to be the same on your blog.
A blog comment is akin to a ringing phone— it should be answered. Whether the comment is positive, negative or neutral, you need to let your audience know you hear them. (Plus, ignoring someone is just plain rude.)
Don't just wait to respond—you should actively seek out conversation online, the same way you would engage with customers who were physically in that cute little candy shop of yours. At the end of your blog posts, ask a question that gets the reader involved.
Pay attention to the responses because…
Listening to your blog audience can give you a huge advantage.
Your audience has things to tell you; their concerns, their opinions, their outlook, their struggles. All of that is great information that you can use to shape your future blog posts.
And, yes, you can use your blog to straight-out ASK your customers what their thoughts are (like we did here). Use that feedback to create new topics or even shift directions if needed.
Even if you never directly ask a question, your audience is speaking to you through your analytics. What posts were most popular? What has the least views? In the same way you would analyze the sales at your candy shop, let the numbers speak to you. If no one is buying Good & Plenty (because, seriously, does anyone like those?) then you should stop selling it (even if you are that one weirdo who really does like it).
Same for your blog. Digging in to the data can help you understand what information your audience wants from you so you can continue with only the good stuff.
[Tweet "Even if you never directly ask a question, your audience is speaking to you through your analytics."]
Data is so powerful, but in order to have meaningful data to analyze, you need people to visit your blog. And order to get people to visit your blog…
You have to promote your blog like it's a biz
Do you just sit behind the counter of your candy shop with the lights off and hope someone wanders in?
No way. You're out there spreading the word, right? During business hours, those lights are ON.
You have to do the same for your blog. Share your posts on your social networks (business AND personal). Mention it in your business enewsletter. Include the URL on your business card. You have to let people know you're out there, because they are not necessarily looking for you.
But once they find you, you want them to find you irreplaceable.
[Tweet "If you want your blog to make a real difference for your business, start treating it like one. "]
Show your personality to get your audience hooked.
Finding your blogging voice can be hard, but what makes it a lot easier is the understanding that it should be authentically you.
Start by writing like you talk (don't be scared- remember you can edit). Read your writing out loud when you're done. Does it sound like something you would actually say?
Play up an aspect of your personality that is unique. Focus on whatever it is that makes your perspective and your business special, and use that to set yourself apart. Give your audience a reason to join your community in the same way you would make sure your candy shop was an inviting place for candy-a-holics.
Don't pretend, or take on someone else's persona, or try to conform to something you think you should be. You don't need to do that. You know more than you think you do. Let that personality and your unique perspective be among your biggest business and blogging advantages.
If you want your blog to make a real difference for your business, start treating it like one. Yes, it's hard work. But it's worth it.
Tell us: Is your blog a vital part of your business, or are you struggling to apply your business sense to your blogging skills?
P.S. Don't forget to download your Blog Vision Worksheet so you can start blogging with business savvy, purpose and intent.