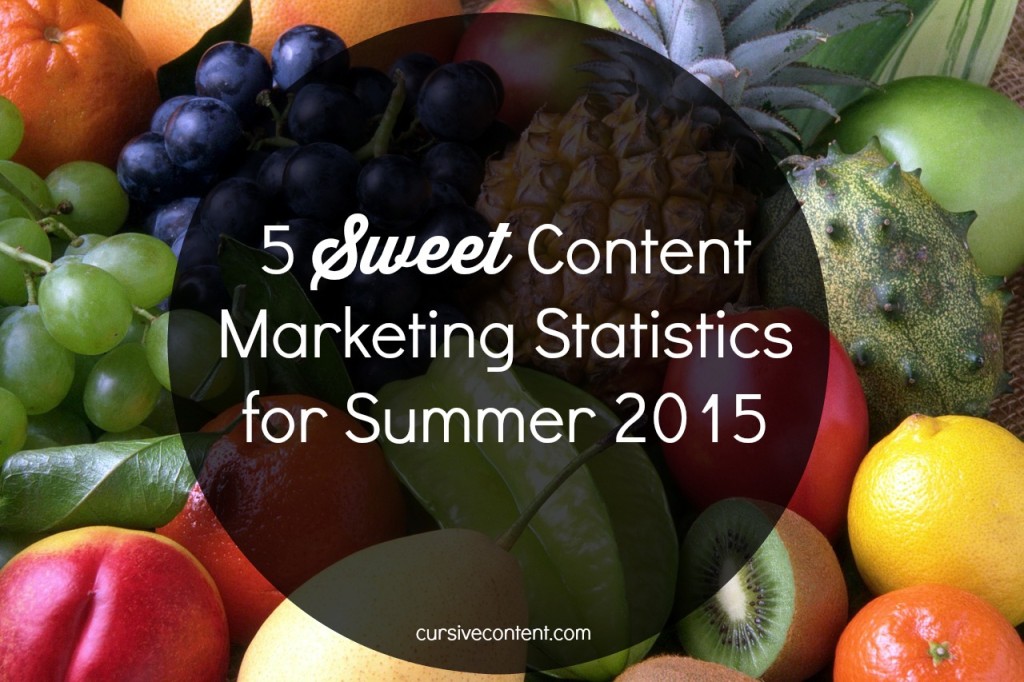 Looking for some fresh-squeezed content marketing and social media statistics? We've picked the sweetest stats from the past few months for this batch of factual goodness.
Here are the best of the crop, and what they mean for the future of content marketing:
The top eight social networks drove 31.24% of overall traffic to sites in December 2014, up from 22.71% the same time last year.
The takeaway: The power of social media sites continues to grow — and threaten search engines. The eight sites referenced in this statistic (Facebook, Pinterest, Twitter, StumbleUpon, Reddit, Google Plus, LinkedIn, and YouTube) are becoming primary sources for news and information.
As this report says: "Over the years (and in 2014, especially), our media consumption habits have changed dramatically. We rely less on home pages and search engines, discovering news pertinent to us through social media and direct messaging on mobile apps."
Read all about it: On Shareaholic: In Q4, Social Media Drove 31.24% of Overall Traffic to Sites [REPORT]
Read more about it: How to Determine the Social Networks Your Business Should Use
Consumers expect brands to have a presence on almost 3.5 different social platforms.
The takeaway: Continuous social media presence is a consumer gauge for credibility. Many consumers use social media as a measure of a brand's legitimacy. As the research reflects, consumers expect brands to be on social media – similar to how consumers began to expect brands to have a website in the 1990s. The presence alone validates the brand and demonstrates that the brand is up-to-date, active and trustworthy.
Read all about it: On Hubspot: The Social Lifestyle Report; On Convince & Convert: New Social Media Research Uncovers the Big Problem for Businesses
Read more about it: Brands & Social Media: Does Continuous Engagement Matter?
65% of surveyed B2B small businesses say ebooks and webinars are effective content marketing tactics.
The takeaway: Small businesses are investing in content tactics that demonstrate their expertise — and help them grow their owned audience. Both ebooks and webinars are fabulous forms of gated content that provide valuable information to readers in exchange for some personal information. This shows that, for the companies surveyed at least, audience growth and engagement — and building, not renting, an audience — are a key marketing focus.
Read all about it: On Content Marketing Institute: B2B Small Business Content Marketing: 2015 Benchmarks, Budgets and Trends
Read more about it: The Content Marketing Research All Small Businesses Need to Read
73% of senior-level marketers believe email marketing is core to their business, as email is a critical touchpoint along the customer journey.
The takeaway: Email in 2015 is arguably more important than ever before. It helps build audience, and helps keep that audience engaged throughout the entire customer journey. It can be customized to fit the individual's needs and interests, so it is more personal and engaging that traditional marketing tactics. And because consumers are now connected 24/7, they have easier access to email. So consumers are relying on email more, and reading email more, on their mobile devices.
Read all about it: On Salesforce: 2015 State of Marketing
Read more about it: You Can't Afford to Ignore These Critical Marketing Strategies in 2015
Marketers want to master tactics and engagement: At least 91% of marketers want to know the most effective social tactics and the best ways to engage their audience with social media.
The takeaway: As Contently's Shane Show recently wrote, it's time to stop simply "doing" social media. He says: "Because social media provides a direct line to consumers, we've bestowed it an enormous amount of perceived value for business. But as the industry matures, our buck's bang will slip to an inevitable equilibrium—like it has with Google AdWords and other saturated marketing channels. In a nutshell, social is becoming less easy to exploit. We were on a high; now we're on a comedown."
In order to be effective on social platforms, you need to be strategic with your content AND your promotion. Think: advertising. Social media is no longer a free-for-all. So it makes sense that marketers are rethinking their approach and ready to learn what really works on these platforms.
Read all about it: On Social Media Examiner: 2015 Social Media Marketing Industry Report
Read more about it: Getting Started With Social Advertising: Facebook Ad Basics
Want more snackable facts? Subscribe below and never miss an article like this. 
Emily is the owner of Cursive Content Marketing. She has been content marketing since the sixth grade, when she created a neighborhood newspaper to build her babysitting authority. (It totally worked.) Today, she helps brands drive business with smart content.
BE A CURSIVE INSIDER.
Get weekly EASY, actionable tips you can use right away to strengthen your school story.