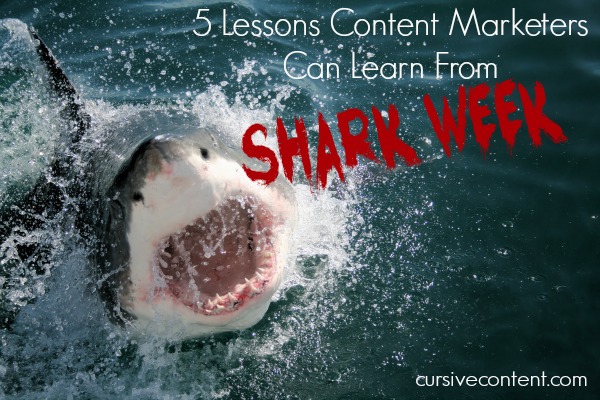 For one week straight, the Discovery Channel turns into a shark-infested network, and people eat it up.
Over the past few years, Shark Week has taken over TVs in millions of homes across across world. Shark Week is now aired in 72 countries and, thanks to its popularity, Discovery Channel is currently ranking as the #1 primetime network in several key demographics.
Did we always like sharks this much? Nope. Shark Week has become a crazy phenomenon in recent years, but did you know that it's actually been around since 1988? That's right, 26 years of shark-tastic programming that the Discovery Channel has grown into an international sensation.
So what was the tipping point from the kind of week only marine biolgists cared about to something that captivates the world? Discovery started taking it beyond the TV, providing tons of content and plenty of ways for Shark Week Fans to get involved.
Here's 5 lessons we can learn from the success of Shark Week:
Get your audience involved
Discovery supports its audiences' growing infatuation by giving them opportunities to participate in Shark Week. Tweets and Facebook posts using Shark Week hashtags appear on screen during shows. You can take the Shark Personality Quiz (in case you're wondering, I'm a Hammerhead), or enter and vote in the "Take A Bite. Take A Pic." contest, where you can win prizes and have your photo featured on a Times Square billboard. You can even buy Shark Week gear. Although criticism regarding blatantly false and sensationalist content has been heard recently (something that Discovery Channel should definitely get in check before it backfires big time), overall, people are happy to spread the Shark Week love.
Generate excitement
Part of the fun of Shark Week is anticipating Shark Week. Promos tease new shows and preview exciting clips. Shark Week partners also start teasing Shark Week in advance. By the time the first day rolls around, it's written on calendars and DVRs are set to record. It's impossible to forget it's happening.
Provide plenty of supporting content
The television shows are just the beginning. Check out the Shark Week website and you can watch additional video footage. Or perhaps you'd like to check out one of the live shark cams, read some articles, or learn how you can help save sharks. The site's sidebar allows you to check out the tweets, posts and photos rolling in from Twitter, Facebook and Instagram. There's no shortage of information and things to do that feed the frenzy for Shark Week.
Involve partners
Most notably, Dunkin' Donuts debuted a special Shark Week donut and even changed their logo on Discovery's site to read "Shark Week Runs on Dunkin'". Additional partners include Southwest Airlines, Cold Stone Creamery and LUSH Cosmetics, who are all promoting Shark Week on their own websites and social media accounts. This kind of support exposes new audiences to Shark Week and continues the momentum Discovery has created.
Make it interesting
The fact that sharks are scary, exciting, mysterious creatures absolutely helps build interest. But here's the thing: during Shark Week, we find out that sharks are amazing because Discovery shows us they're amazing. They present scientific information about sharks in a way that wows us and keeps us up past our bedtime. Then they write articles, create games and contests that intrigue us even more. They offer eye-catching and creative products that allow us to take a piece of Shark Week home with us—you've got to check out the shark backpack and bathing suit. The fun factor is huge, and there's no shortage of interesting things to read, see and do.
During the other 51 weeks of the year, most of us won't think twice about sharks. But the Discovery Channel has guaranteed that during one week in August every year, sharks will be everywhere and we won't be able to get enough.
Now, if you'll excuse me, I have an episode of Alien Sharks on my DVR that I'm dying to watch.
For more on the content marketing topics that have our attention this summer, check out this post.