I first listened to Howard Stern on a six-hour car-ride from Connecticut to Washington, D.C. about 10 years ago – and I was shocked.
Not the typical shocked one might assume from the "shock-jock" title that has branded Howard throughout his 30+-year career, but shocked at the insightful, thoughtful and extremely intelligent point of view shared by this larger-than-life personality.I marveled at his quick wit and self-deprecating humor, and recognized in him a powerful storyteller that could engage even the most skeptical audience (me).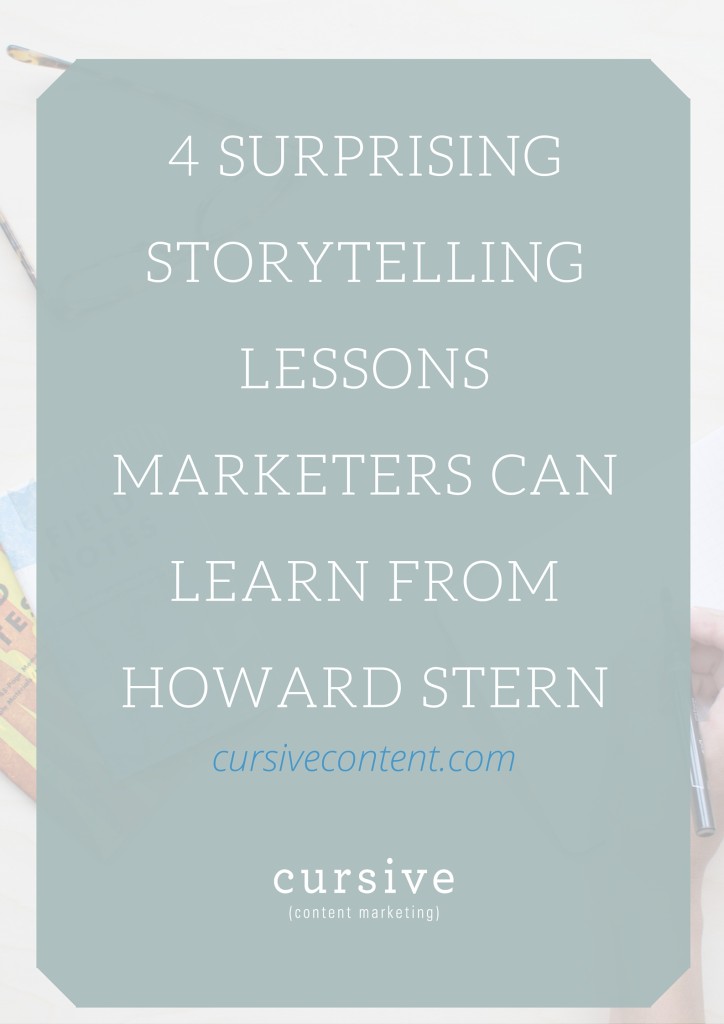 I was hooked. Today, I'm still an avid listener to his Sirius show (ok, when my kids aren't in the car).
So what makes Howard Stern a master at painting a picture of a person, an issue or an event over the airwaves? Here are 4 surprising lessons marketers can learn from The King of All Media:
1. Make yourself uncomfortable. Howard Stern is a self-proclaimed introvert who feels awkward at A-list events and personal interactions. Yet when a high-profile celebrity enters his studio, he isn't afraid to ask the questions we all secretly want answered. He is able to step out of his comfort zone to uncover the story that interests his fans – the story you can't get anywhere else. And he doesn't back down, regardless of push back.
The takeaway: When you've developed your story, push it a little farther. Is there another angle you could explore that might add new flavor, even it takes a little bit more work? Is there a controversial aspect that you've danced around? Don't shy away from the unpleasant. If you feel uncomfortable, you're probably doing something right.
2. Find stories from unconventional sources. Whether interviewing Sir Paul McCartney or the guy delivering Mexican food to his radio studio, Howard approaches every interview with the same curiosity and sincere interest. He is able to pull fascinating stories from the most mundane situations, which has the power to turn everyday people – from his listeners to his staff to his parents – into mini-celebrities.
The takeaway: Anyone can be a compelling source for your content, if the stories are approached from a place of authentic interest without judgment. Seek out untraditional sources to get a unique point of view. Take the time to understand personal stories on a deeper level – you never know what will spark a new content idea.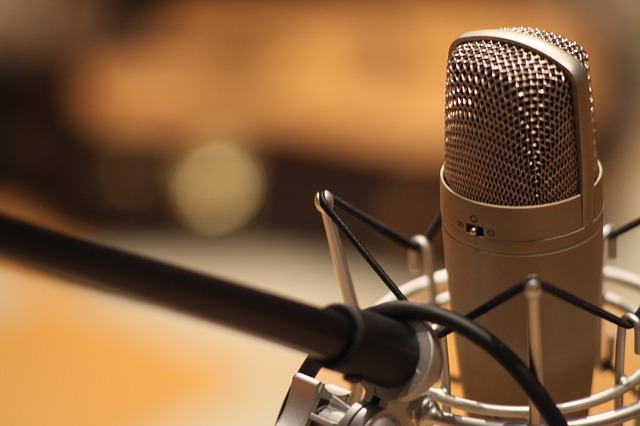 3. Demonstrate both your expertise and your vulnerabilities. Howard is a notorious media force, but he also seems, well, average. He shares personal stories of his insecurities, his quirks and his anxieties. He complains about work, admits it when he doesn't understand current events, and shares some pretty embarrassing facts about his love life and, ahem, anatomy. He's unpolished and approachable. He's not trying to protect his personal brand with a shiny celebrity veneer.
The takeaway: Authentic is better than perfect. Your audience will trust you as a source and a thought leader if you are open with what you know and what you don't know. Approach your content as an interested learner instead of an all-knowing expert. It gives you room for growth and evolution while positioning you as a credible source for knowledge and conversation.
4. Always, always put your audience first. The secret to Howard's longevity is no question the army of super fans he has amassed, from his early days in Hartford and Detroit to his current Sirius digs in NYC. By having an innate sense of what his audience will like and dislike, Howard is able to captivate listeners on a consistent basis.
The takeaway: Do whatever it takes to discover more about your audience. Always go back to their wants and needs, and constantly ask yourself if you're meeting those needs. If you're not, rethink, re-strategize, rewrite. Look at each audience interaction as a learning opportunity. What resonated? What flopped? And let them know you're listening so that they feel like part of the story rather than the sounding board.
Not familiar with Howard Stern's interview style? Check out a list of some of his best celebrity interviews here, including links to YouTube clips and audio tracks.
(Image via.)
Emily is the owner of Cursive Content Marketing. She has been content marketing since the sixth grade, when she created a neighborhood newspaper to build her babysitting authority. (It totally worked.) Today, she helps brands drive business with smart content.
BE A CURSIVE INSIDER.
Get weekly EASY, actionable tips you can use right away to strengthen your school story.