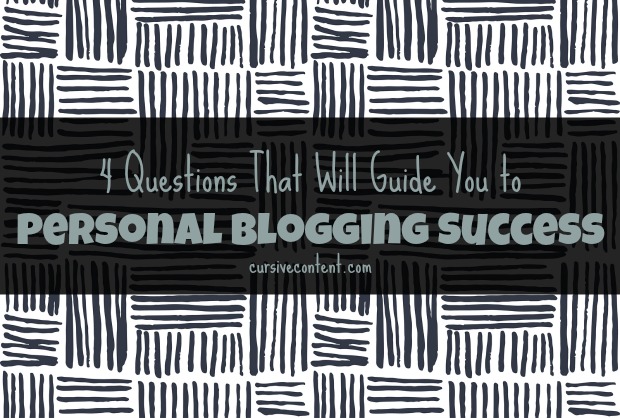 In many ways, it's great to be a blogger. You have your own platform where you can write about your passion. You can publish your thoughts without needing to run them by an editor. You have your own little corner of the internet.
But when you want more, well, it's also hard to be a blogger. There are an estimated 249 million blogs on the internet today. As a personal blogger, you don't typically start with any klout behind your name, like many businesses who decide to start blogs. If you're hoping to move beyond having a blog that only your mom and a few close friends read, realize what you're really doing is starting a business and growing a personal brand.
There are people who blog just for the fun of it, and there's nothing wrong with that (in fact, I've done it, and it was a great experience!). But since you're reading this article about how to be successful, it's safe to say you're interested in taking your blog beyond just a personal hobby.
It's a struggle to make a name for yourself, gain an audience, and make any money from blogging. But it is possible. To be a successful personal blogger, you first need to define a few things…
What does success look like to you?
Defining your goals makes them more attainable. Start by setting realistic short-term and long-term goals. Consider the broad spectrum of ways in which you define success, and only pay attention to the ones that matter to you. These might include:
# of blog visitors
# of blog comments
# of social shares
# of social fans/followers
advertisements
guest posting opportunities
local/national media recognition
partnerships
awards
Again, what matters most here is what matters to YOU, but keep in mind that if you are serious about blogging as a source of income, advertisers will want to see substantial traffic numbers.
What actions will you take to earn that success?
Just wanting more blog visitors or hoping for guest posting opportunities won't make anything happen. You need to take purposeful steps to get the results you want. Create an action plan for how you'll achieve each goal, and keep it realistic. Chances are you haven't quit your day job yet, so consider your 9-to-5 workload when you're creating a blog building to-do list.
How will you make money from your blog?
Even if your goals don't involve earning a serious income from your blog, it's still important that you understand the business side of blogging and the various ways in which it's possible to make money.
There's a wide variety of ways bloggers make money, from ads to affiliate links, syndication to speaking engagements. You don't want to miss out on opportunities because you didn't understand them, or even know that they exist.
But before your head fills with dollar signs, it's important to realize that most blogs don't make money. And most of the blogs that do make money don't make enough for the blogger to make a living from it. Don't let that discourage you from building your blog into something more, just be realistic about what financial success from blogging probably looks like.
What's your sweet spot?
We ask businesses to define this all the time, and as a blogger, you're not getting off the hook on this one. What is the thing you do better than anyone else? Why should people read your blog? If you can't answer that, your readers won't be able to either, and they're likely to spend their internet browsing time elsewhere.
Once you know your sweet spot, convey it in everything you do. Blog readers want to feel your passion and see your expertise. And they also want to get to know you. As a personal blogger, you'll be most successful if you share your knowledge AND share bits and pieces (or whole chunks) of your life.
For more advice on personal blogging, check out 10 Do's and Don'ts for the Personal Blogger.
Need help creating your action plan? Check out Cursive's Script Your Story sessions, where we'll help you discover your story and outline your steps to success.
Stacy is a content marketing strategist & writer at Cursive Content Marketing. She has more than a decade of marketing experience with a focus on strategy, writing and the interactive experience. Stacy is driven by her strategic outlook, life-long love of words and her innate curiosity. And coffee, of course.
BE A CURSIVE INSIDER.
Get weekly EASY, actionable tips you can use right away to strengthen your school story.