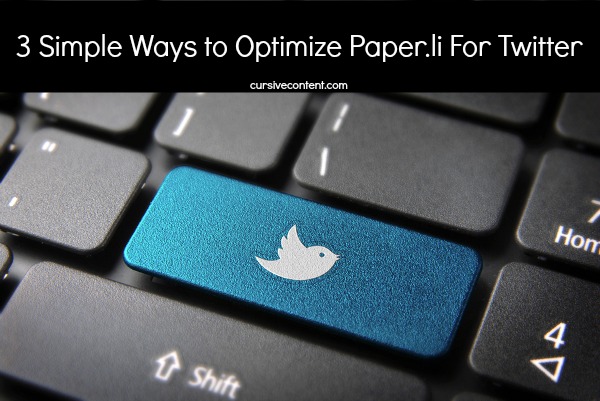 The truth is, newspapers will never die. They just might take on different forms.
Enter Paper.li, a content curation tool that allows users to automatically publish their own custom online "newspaper" filled with content from the sources they choose. For example, you can use Paper.li to create a publication that covers the latest news in your industry or community, or use it to build your relationships with industry leaders. You can also use it to listen and chime in to conversations that matter to your brand.
While it's a content curation tool in it's own right, there are a few things you can do to optimize your Paper.li use, especially for sharing on Twitter:
Include an industry-appropriate hashtag in the name of your paper.
Your auto tweets (we'll talk about those in a minute) will then include a hashtag each time they're sent. This is a simple but effective approach to naming your paper, since the stats show that tweets with at least one hashtag are 55% more likely to be retweeted.
Curate your paper from the top people you follow on Twitter.
You can pull content from Twitter, Facebook, Google+, and RSS feeds, but make sure you've got a solid handful of good Twitter sources all related to the topic of your paper. This will allow you to get a good mix of content you trust, and hopefully some recognition from industry leaders you admire.
Configure your auto tweets in Paper.li.
Don't forget to toggle the "Include mentions" option to "on". This means that some of the powerhouse folks from Twitter that you've curated content from will be mentioned in your tweet. As you're setting up the text for your tweets, keep in mind that a recent study shows that tweets from Paper.li that include the words "daily is out" get approximately 30% more retweets than those that don't include these words.
In three simple steps, you've made your Paper.li account more effective for distribution on Twitter. But regardless of how you use Paper.li, don't set it up and neglect it; remember to add new sources to your paper as you come across them. Your Paper.li tweets are only valuable if you've curated smart, inspiring content, so remember to read your own paper each day to make sure you're publishing the best of the best.
Are you using Paper.li? Let us know your tips and best practices in the comments below, or tweet them @cursivecontent.
Stacy is a content marketing strategist & writer at Cursive Content Marketing. She has more than a decade of marketing experience with a focus on strategy, writing and the interactive experience. Stacy is driven by her strategic outlook, life-long love of words and her innate curiosity. And coffee, of course.
BE A CURSIVE INSIDER.
Get weekly EASY, actionable tips you can use right away to strengthen your school story.