"Alone, we can do so little. Together, we can do so much."
Helen Keller said that. Not to belittle the efforts of one, but to reinforce the importance of collaboration.
After all, where would Helen Keller have been without Anne Sullivan? And what would Anne's life have been like without Helen?
Collaboration is a game-changer, and it can play an integral part in your content marketing approach.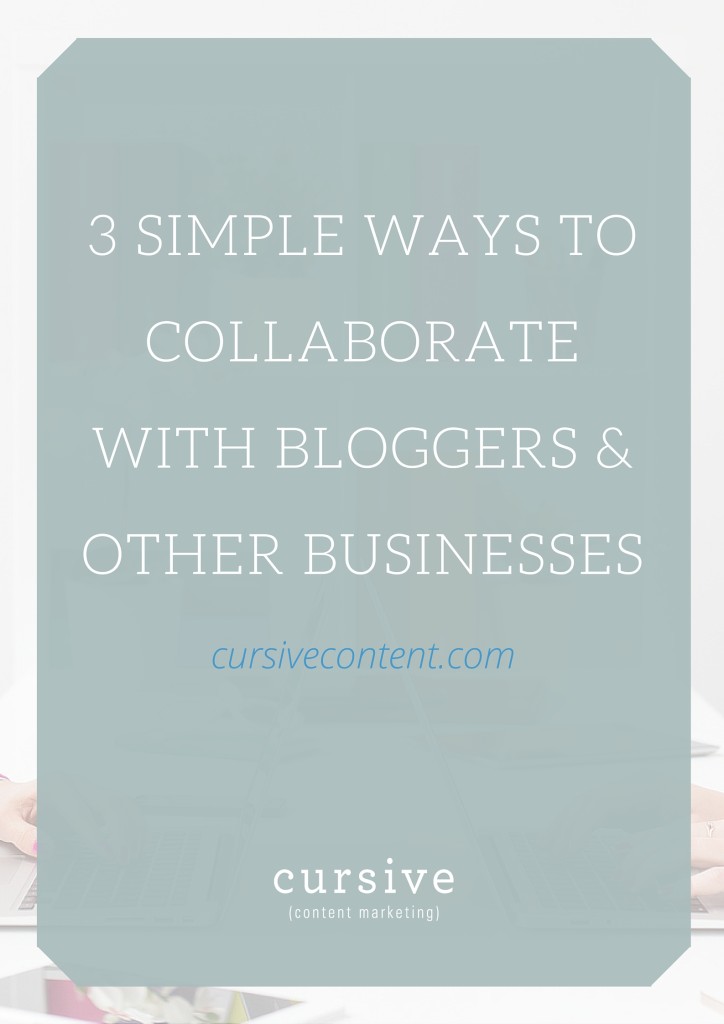 Finding trusted people to work with is the most important step, for obvious reasons. If you produce work in conjunction with someone else, it will be a reflection on your business. Trust, respect and confidence in the other party are vital.
Consider the bloggers you follow, the companies you admire and the people you know whose work complements yours without directly competing with yours.
Can you envision what a collaboration with those people might look like? Here are three collaboration tactics that might fit into your overall content marketing strategy:
Guest blog posts
Consider collaborating with: An established blogger or writer in your field/industry whose opinions and writing you know and respect.
How to make it work: Establish clear expectations regarding the post, including:
Length
Topic
Publication date & deadlines
Ownership
Promotion
Benefits:
A new perspective helps keep your blog content fresh
Both sides get exposure to a new audience
Both sides stand to gain additional respect and clout for being associated with the other
You get to test out a collaborative process without any long-term, full-scale commitment
Social media takeovers
Consider collaborating with: An established blogger or writer in your field/industry whose opinions and writing you know and respect.
How to make it work: A social media takeover can be a fun way to change up your social media content for the day, but letting someone else takeover your social presence can be a bit scary.
To avoid any sour moments, establish clear expectations about the content and tone of the posts. Ideally, you would have ample opportunity to review posts in advance, but if the takeover is tied into an event, you might not have as much time to review as you'd like. Setting expectations upfront will help.
Consider the platforms on which the takeover will occur. Facebook and Instagram are often great choices because there is more room for photos and content than, say, Twitter. You also want to choose a platform where both you and your collaborator have a strong following so you can each benefit from the other's audience.
Benefits:
Fresh perspective
Exposure to new audience
Positive association
Low commitment

Big content pieces
Consider collaborating with: A company in your industry or a related industry whose work and vision aligns with yours.
How to make it work: Developing a big piece of content with another company is a significant commitment, but you can both see huge benefits from the shared knowledge.
This might be a good time to tackle those projects that seem too cumbersome for your team to handle alone, such as a research report, eBook or webinar.
To help the process run smoothly and avoid any breakdowns in communication, clearly define:
Team members
Responsibilities
Anticipated launch date & deadlines
Content format
Ownership
Promotion
Benefits:
Unique perspective
Increases your capacity to complete a bigger project
Exposure to new audience
Positive association
If you are ready for something new, a collaboration might be worth exploring. Remember, alone, we can only do so much. Working together, we can expand beyond constraints of time, capacity and creativity. And, hopefully, have a lot of fun in the process.
For more insight into content marketing strategies and tactics, stay in touch. Sign up for our weekly enewsletter using the form below.
Stacy is a content marketing strategist & writer at Cursive Content Marketing. She has more than a decade of marketing experience with a focus on strategy, writing and the interactive experience. Stacy is driven by her strategic outlook, life-long love of words and her innate curiosity. And coffee, of course.
BE A CURSIVE INSIDER.
Get weekly EASY, actionable tips you can use right away to strengthen your school story.