Two years ago this week, I celebrated my daughter's first birthday on the same day I officially became an entrepreneur.
Officially because I had quit my job and cashed my last steady paycheck. But unofficially, this moment was the culmination of years of what ifs, overwhelming work and a very, very understanding husband (whose confidence in me perhaps definitely outpaced my own).
So on that day, once the candles had been blown out and the cake had been eaten, the party was, in every sense, over. My mind immediately shifted to my newfound freedom-slash-pressure. But I was ready. I was gung-ho.
And I had no clue what I was getting myself into.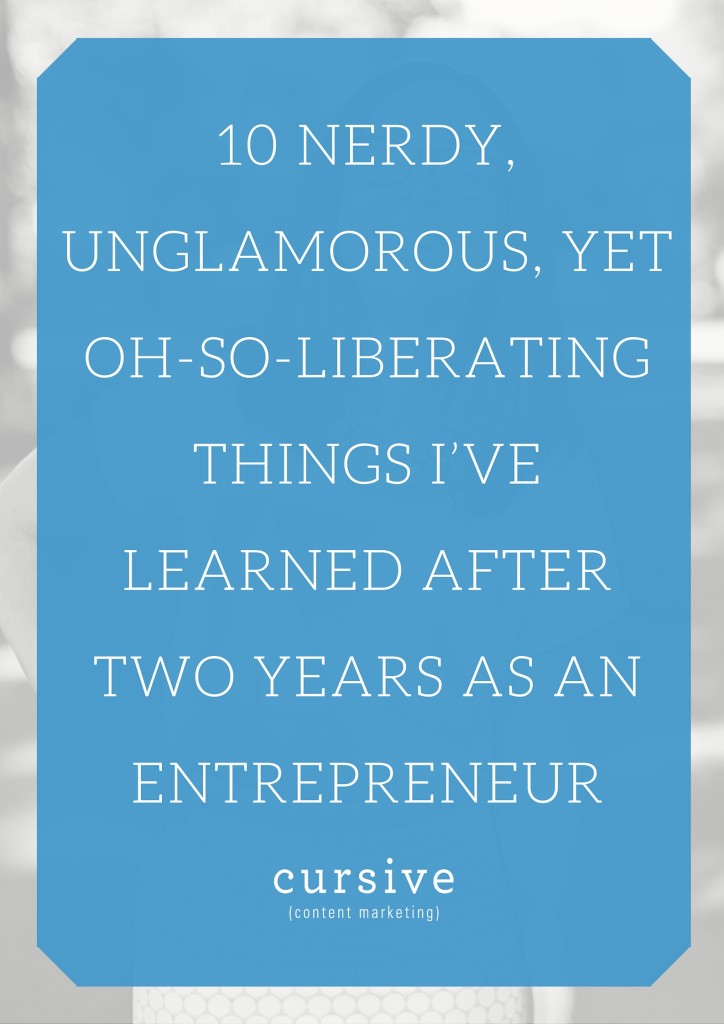 Building a business from nothing – waking in the middle of the night with the spark of an idea that turns into a scribbled manifesto that turns into a brand that turns into this amazing thing that can actually support and sustain your dreams – is the most rewarding, exhilarating experience.
But within that rewarding experience, there are other things. Mundane things. Daily grind things. Things that surprise you, or anger you, or almost throw you off kilter. And a lot of these things are things that would have been helpful to know during those gung-ho, starry-eyed moments of creation.
Here's what I learned during my first two years of being a naïve-brave-proud-doubtful-adventurous-terrified-successful-overwhelmed-yet-all-around-HAPPY entrepreneur:
No one is waiting around to hear from you. Not even your family.
(Thanks husband – don't you know I can check your email open rates? Sheesh.) No matter how good your offer is, how amazing your product is, how ridiculous your content is, no one is going to seek you out without real work on your end. Which means you have to consistently work hard to build a loyal audience and gain their trust. And once you build that audience, you have to consistently deliver. You have to be creative to stay top-of-mind, and you have to keep going. Keep that pressure on. Don't ever press pause.
In fact, no one cares about you.
People care about themselves. And they care about you in the context of how you can help them. As long as you remember that, you can avoid the me-me-me-I'm-awesome pit that it's so easy to fall into as an entrepreneur – especially as you enjoy some success. If you keep it all about your audience, and you focus on pleasing your audience with everything you produce, your audience will care.
You really do need A Room of One's Own.
If you are a creative entrepreneur who starts a business from home, you need to keep your work mess separate from your real-life mess. I don't care if you set up a desk in a closet or your laundry room, but you need something that allows you to shut the door and keep the minions at bay. Your own space gives you the opportunity to think, create, focus … and step away at the end of the day.
You have to work really hard…
I thought I worked really hard as an employee. But being your own boss gives work an entirely new definition. You are not only required to get your work done, but you are also in charge of promoting your business (and yourself), handling important things like money (and taxes), and putting long-term vision and strategy in place. Especially when you first start out, if you don't hire anyone, it can be extremely overwhelming.
Yet you'll want to work really hard.
Waking up at 5 a.m. … Working until midnight … If I had to work the hours I do now at my previous job, I would have bitched all day. But because these crazy hours are of my own doing, I'm totally good with them. In fact, I'm energized by them. I can allow myself a mental break to watch The Real Housewives of New York while I eat my lunch, kick ass for a few more hours, and go pick my kids up from school. I can put them to bed, and pick up where I left off. How I get my work done is up to me.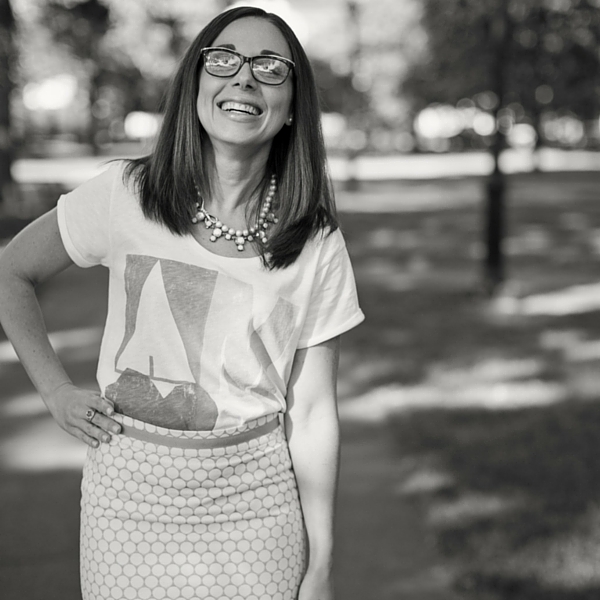 You'll probably have to pick either lifestyle or capacity.
This is one I'm still struggling with. I've always said, I am my own best case study. I don't have to actively seek out clients – they usually contact me first, after finding and reading one of my blog posts or connecting with me on LinkedIn (or even hearing about me on The Howard Stern Show). So, I've got 99 problems but new business isn't one. Deciding whether I want to take on everything and become a bigger operation, or stay a solopreneur who partners with other fabulous, amazing solopreneurs to get shit done, is one however.
You need to know what you don't want to do.
I started Cursive Content Marketing because I saw a real need for clients who want to tell a better story – to focus on content and audience rather than marketing tactics. And I was right. But what becomes challenging is when you form a trusted connection with a client and they hope that you can take on everything – help them coordinate design, programming, broadcast, etc.
When you first start out, your instinct is to say yes to everything. But I quickly realized that I don't WANT to oversee design, or programming or broadcast. I know people who do a killer job at that, and I'd rather send you over to them. I don't ever want to be a consultant who yeses clients to death – or I wouldn't be a very good consultant.
Even solopreneurs can't work solo.
As I mentioned above, even if you work for yourself and you don't hire anyone, you can't do it alone. You need a support group. You need a sounding board. You need to partner with other entrepreneurs you trust who can make your business better.
You're going to have to spend some money.
Another personal struggle that I'm learning to overcome. That old saying "sometimes it takes money to make money"? Yep, true. You're going to have to invest some money in yourself. For me, most of these purchases go toward online services like web hosting, blog bells and whistles, email distribution, education, marketing automation and such. They're minimal costs, and – this is important – they make my life easier! Yet it's still hard to take out the credit card when it's your own hard-earned money on the line. But if it takes a little stress out of your insane entrepreneur life, it's totally worth it.
You're going to (love/hate) this life like crazy.
Circle one. Or both. Because at times, you will love your crazy business, and at other times, you'll want to go all Jerry Maguire on yourself (I was referring to the "Who's coming with me?" scene, but "Show me the money!" works here as well). But at all times, love it or hate it, it will be worth it. Because it will be yours.
One more thing we've learned along our entrepreneurial journey: the content and tools created by other entrepreneurs can make our lives so much easier. We compiled Cursive's Favorite Resources for Entrepreneurs, just for you— download it here.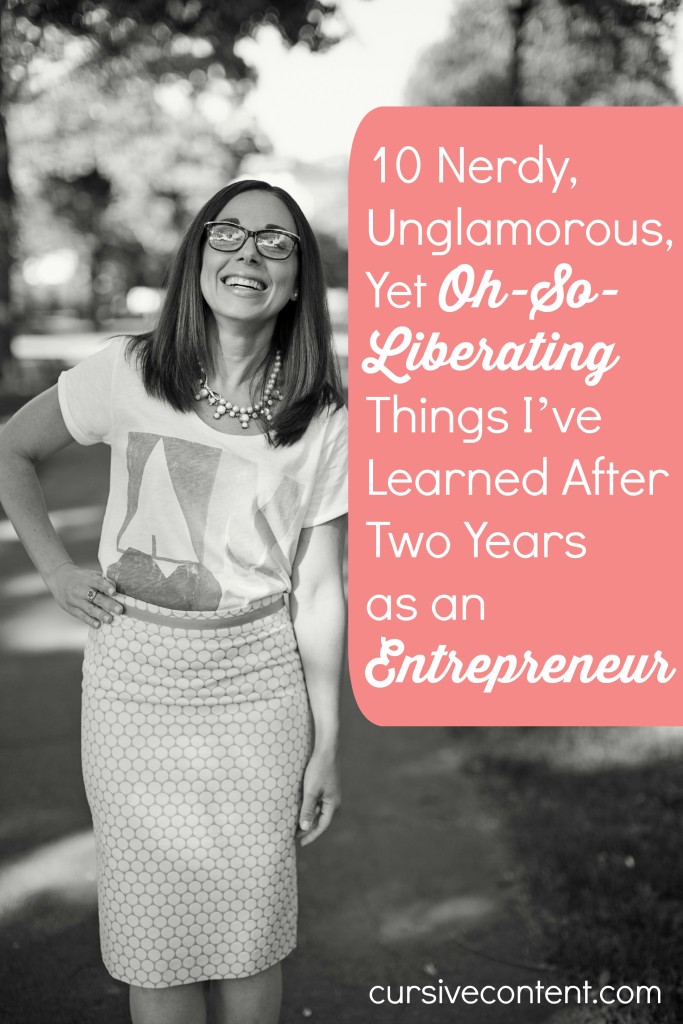 Emily is the owner of Cursive Content Marketing. She has been content marketing since the sixth grade, when she created a neighborhood newspaper to build her babysitting authority. (It totally worked.) Today, she helps brands drive business with smart content.
BE A CURSIVE INSIDER.
Get weekly EASY, actionable tips you can use right away to strengthen your school story.