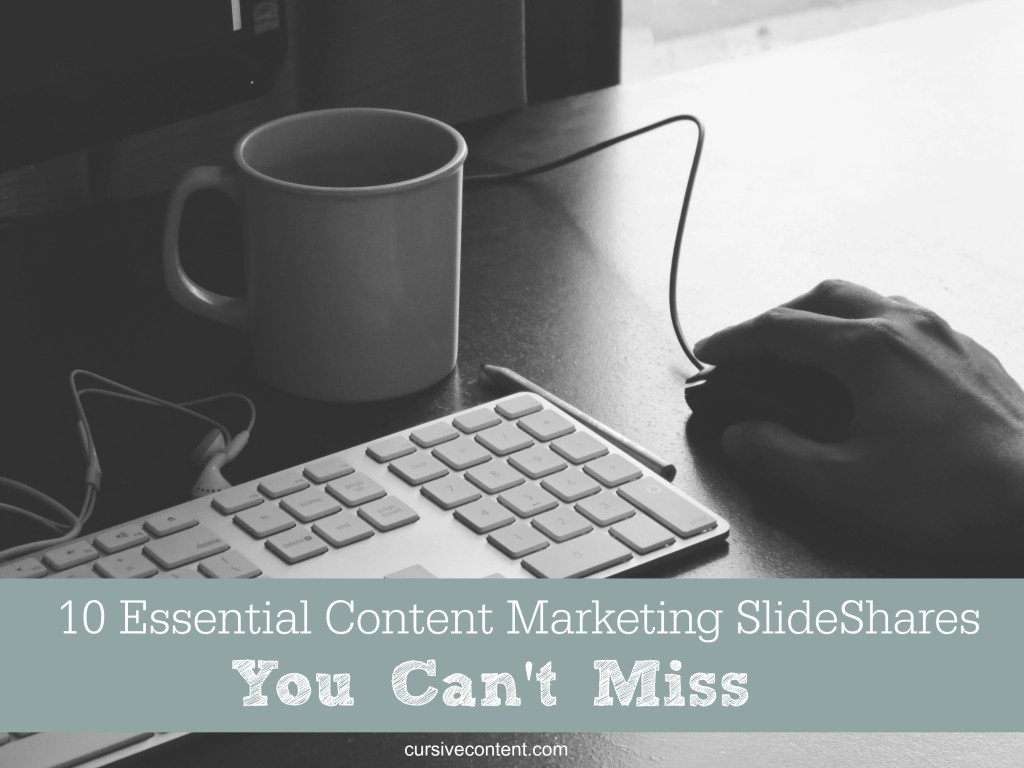 If you haven't lost hours exploring the treasure trove of content on SlideShare, then you're seriously missing out.
SlideShare is home to some of the best resources, presentations, statistics and inspiration a marketer can ask for – and, it's one of the best platforms to use to expand the reach of your own content. (Why? Read: "How To Use Slideshare To Get More From Your Content".)
With all of this content, exploring SlideShare can be a little bit overwhelming – so we're here to help. We've rounded up our favorite content marketing SlideShares to serve as both resources for your content strategy development and inspiration for what you can achieve with your own SlideShare content.
Here are the top 10 SlideShares every content marketer needs to view, today:
This is a great in-depth story on content marketing, from where it began to where we are headed. While filled with graphs and statistics, it's still an easy, enjoyable read that will give you powerful ammunition when developing (or making the case for) your content marketing strategy.
Quick, snappy and so spot on that it seems obvious yet brilliant at the same time. If you haven't realized it by now, Gary Vaynerchuk knows his storytelling. The best of the best.
Free ideas! This quick SlideShare gives you 12 idea categories that can help you overcome content slump. Use it the next time you feel that blank Word document taunting you.
I am a total sucker for statistics. I would eat them for breakfast if I could. And this presentation is like a four-course meal. It provides statistics on everything from traffic and lead generation to engagement and brand loyalty. If you need a stat, it's here.
A fantastic way to introduce content marketing to your team and help set realistic expectations. This presentation is as entertaining and it is informative.
This presentation has some refreshing nuggets of inspiration in its 71 slides, such as: "Great content isn't great until it gets found, consumed and shared." It's a fun scan filled with statistics and graphics (I mean, who wouldn't appreciate seeing a search+social+content peanut butter and jelly sandwich?)

A helpful reminder to all marketers, writers and business owners who are developing branded content. When you find yourself slipping into meaningless "brand speak," use this presentation to bring you – and your brand – back to reality.
I first stumbled across this presentation back in 2012, and I loved it so much that I printed it out and wore its pages thin. It's a fantastic primer for metrics and measurement when the world of content and social media marketing feels unmanageable.
You know what else I'm a sucker for? Quotations. And this SlideShare combines awesome quotations with awesome marketers. Thank you, HubSpot. Thank you.
A cute, creative, thought-provoking illustrated storybook, starring Jenny, Brand … and a big Chicken. If nothing else, it will inspire you to think about content and relationships differently, and perhaps break out a sketch pad.
Bonus!
We couldn't let you go without reminding you to check out our most popular SlideShare, featuring the secret daily habits of some of the content creators listed above. Check it out, and if you like it, follow us for more!
Do you have any favorite SlideShares to add to the list? Add them to the comments below, or connect with us on Twitter or Google+.